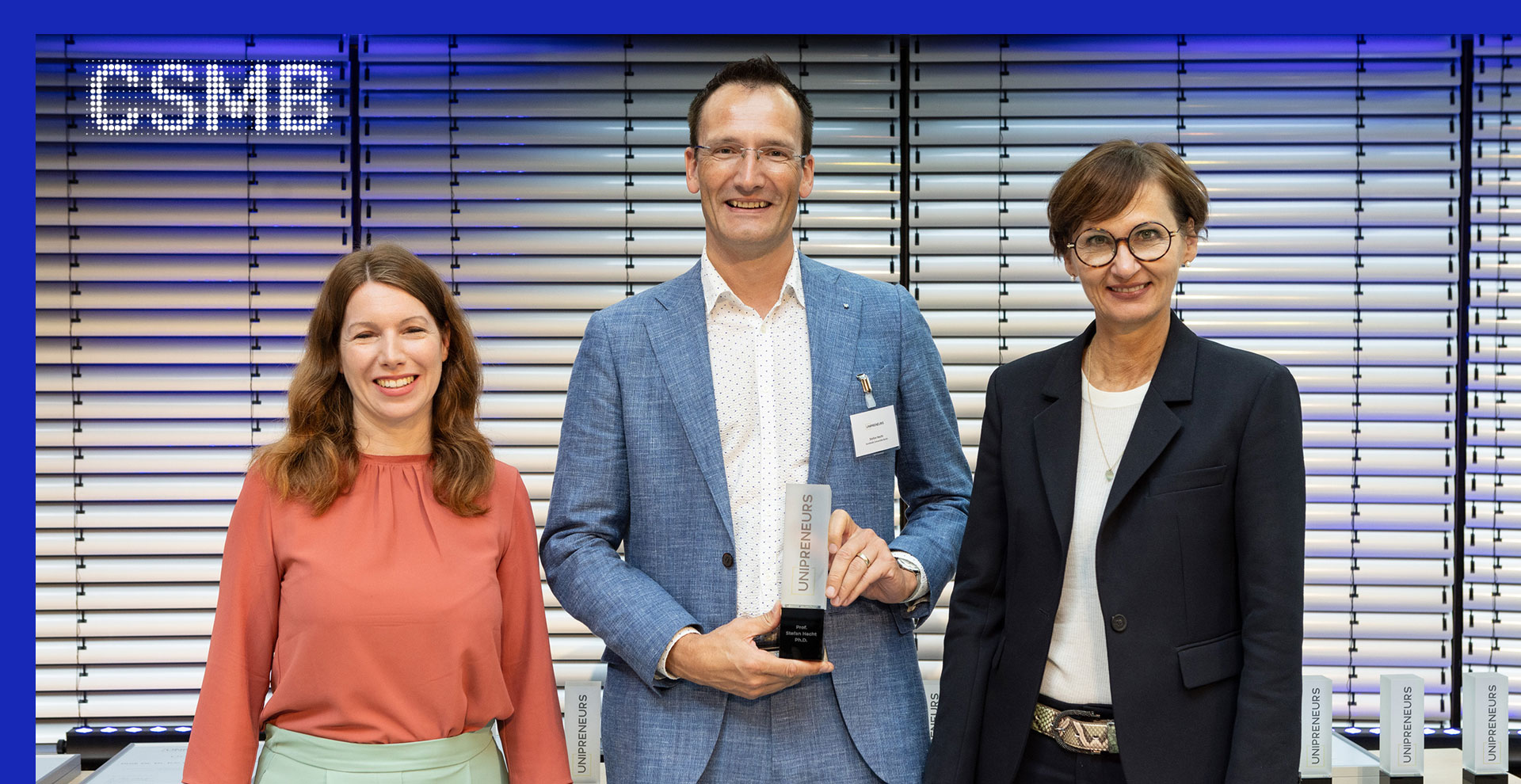 Stefan Hecht received UNIPRENEURS Award for exceptional university entrepreneurship commitment
Berlin, Sept 6th, 2023
Professor Stefan Hecht, Director of the Center for the Science of Materials Berlin (CSMB) at Humboldt-Universität zu Berlin, was honored along with 19 other university professors with the #UNIPRENEURS Award for his dedication to university spin-offs.
The prestigious award ceremony was hosted by Federal Minister for Education and Research, Bettina Stark-Watzinger, and Dr. Anna Christmann, Commissioner for Digital Economy and Startups at the Federal Ministry for Economic Affairs and Climate Action.
"When research addresses genuinely relevant issues, commercial applications naturally follow," says the patent holder. The specialist in photoswitchable molecules found a way to cure liquid specialty plastics with two intersecting beams of light. To apply his research findings, he founded Xolo GmbH with two colleagues and is there developing 3D printers of which the first ones are being used by researchers.
The insights gained from this experience are shared with innovatiove startups and occasionally partners with them in his labs.
Also as the founding director of the CSMB on Humboldt-Universität's science campus in Berlin-Adlershof he aims to realize his vision: "We want to be not only a place for enquiring minds but also for innovative minds. The center should attract researchers who not only answer questions but also translate their answers into practical applications." It is the ideal place to develop f.e. sustainable energy materials that are well thought out from beginning to end: from design and sustainability considerations to validation and implementation.
Minister Stark-Watzinger expressed enthusiasm: [Translated quote] "We want to strengthen entrepreneurship at our universities. Professors play a pivotal role in this. They significantly contribute to the entrepreneurial culture at universities and are crucial drivers of Germany's innovation and future viability."[Original] "Wir wollen das Gründungsgeschehen an unseren Hochschulen stärken. Professorinnen und Professoren spielen dabei eine zentrale Rolle. Sie tragen maßgeblich zur Gründungskultur an Hochschulen bei und sind wichtige Impulsgeber für die Innovationskraft und Zukunftsfähigkeit Deutschlands."
Commissioner Christmann also praised the professors' achievements: [Translated quote] "The distinguished professors from UNIPRENEURS embody the outstanding combination of academic excellence and entrepreneurial spirit. Their contributions to transferring innovations to the business world are invaluable to Germany's innovation landscape and deserve the highest recognition."[Original] "Die ausgezeichneten Professorinnen und Professoren von UNIPRENEURS verkörpern die herausragende Verbindung von akademischer Exzellenz und unternehmerischem Geist. Ihre Verdienste für den Transfer der Innovationen in die Wirtschaft sind von unschätzbarem Wert für den Innovationsstandort Deutschland und verdienen höchste Anerkennung."
UNIPRENEURS is an initiative aimed at bolstering university spin-offs in German universities and awards the highest recognition in Germany for outstanding commitment to entrepreneurship at universities. The "Award for the Best University Professors for Entrepreneurs" by UNIPRENEURS seeks to honor entrepreneurial engagement at universities and raise the prominence of entrepreneurship within higher education. Out of nearly 700 nominations, 20 exceptional professors were selected by a prestigious board.
Contact:
Prof. Stefan Hecht          
Humboldt University in Berlin    
CSMB, IRIS Adlershof, & Department of Chemistry          
Tel.: 030 2093-7365     
sh@hu-berlin.de
www.hechtlab.de